Construction Site Accidents
Construction and job site accidents account for some of the most serious workplace injuries in Pennsylvania and construction workers are often at high risk for serious injury, given the nature of the work they perform, the potentially dangerous machinery and equipment used to perform their work, and the often risky and fragile settings in which work gets done.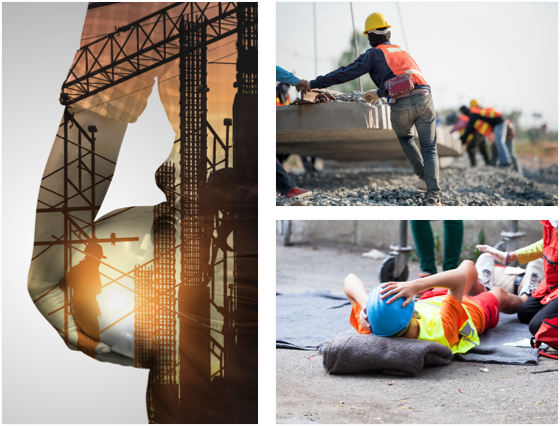 Construction Site Accident Attorneys
According to Occupational Safety and Health Administration (OSHA) data from 2015, falls account for nearly 40% of all construction worker deaths (including falls from roofs, ladders, cranes, and scaffolding), while 10% of deaths are caused by workers being struck by objects (falling tools and machinery and equipment parts). Electrocutions cause 9% of deaths. Being crushed, caught, or pinned accounts for yet another 7% of construction site fatalities. The dangers of working on these sites can complicate injury claims, but that doesn't mean that employees should expect any less than a safe work environment, with adequate supervision, communication among all workers, and safe, operational equipment that they and any operators using the equipment have been trained to use.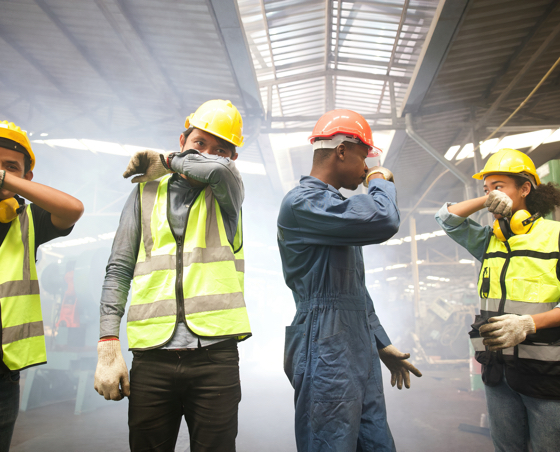 Get the experienced, competent, and thoughtful counsel of our legal team on your side.
There are often many subcontractors and companies (and all of their employees) working on a job site, under the direction and supervision of one or more general contractors, property managers, or owner representatives. As a result, when a serious injury occurs and the risk of liability becomes apparent, parties often point the finger at others on the job site to shift blame. To work through these challenges, and to determine who bears liability for your work site injury, you need the kind of experienced, competent, and thoughtful counsel we can provide.
In Pennsylvania, OSHA is responsible for investigating most construction accidents. If you have representation, you don't need to wait and see what OSHA determines caused your accident. Instead, our team can conduct an independent investigation to determine liability and possible courses for financial recovery, which might reveal areas of wrongdoing unaccounted for by OSHA.
The
Risky Nature

of Working on a Busy Construction Site

According to the U.S. Bureau of Labor Statistics, in 2020 alone, there were 148 fatal workplace injuries in Pennsylvania–and that was considered a "down year" for reported injuries! The private construction sector saw the highest number of fatalities. Nationwide, 2020 saw 4,764 fatal workplace incidents.

Construction sites can be particularly dangerous, with employees often working at high heights and with heavy equipment, which are two of the biggest contributors to injuries at the workplace. Despite the inherent dangers of the job, construction site employees have a right to expect safe working conditions, which includes training for all workers, thorough work site coordination, effective communication, and enforcement of safety procedures and inspection protocols. Unfortunately, many injuries occur when these expectations are not met, and as the result of faulty equipment, equipment misuse, lack of training, and inadequate communication and site coordination
Some of the most common workplace injuries on construction sites involve:
Falls
Slips and trips
Electrocution
Fires and explosions
Compressed gas injuries
Equipment failure
Equipment misuse
Swinging or moving equipment
Worker fatigue or inattention
Scaffolding accidents
Hoist accidents
Shaft accidents
Achieving and maintaining the highest level of safety on construction sites is imperative to protecting the millions of Americans who work on them. On many projects, there are scores of subcontractors, vendors, and workers working different jobs to advance the project, which means that strict, well-conveyed safety rules are a necessity for protecting workers. Coordinating work and safety protocols among multiple trades and ensuring that every subcontractor on site is following good safety practices can be a challenge, which is why busy construction sites often become hazardous and all too often workers sustain crippling, life-changing injuries.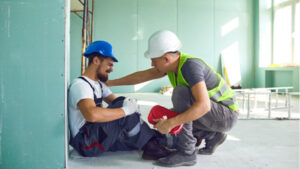 Contact Us
Contact the Almonti Law Group today to handle your personal injury cases with diligence, compassion, and fire.
Get Started