Premises Liability Claims
In the United States, more than 32,000 deaths occur as the result of falls among older adults (age 65+)–about 36 million falls every year. Per the CDC, an older adult suffers a fall every second of the day.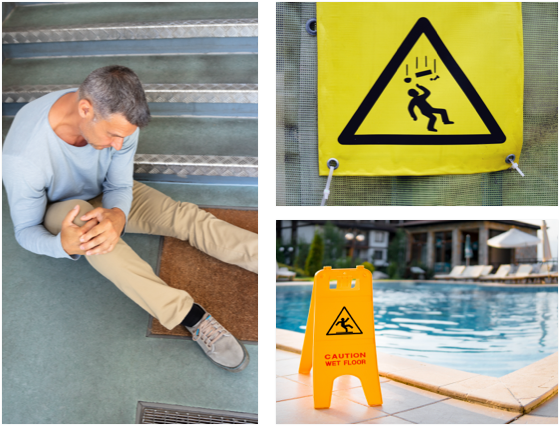 Injuries as a result
of negligent property and business owners are a very common occurrence and should be taken seriously. In the United States, more than 32,000 deaths occur as the result of falls among older adults (age 65+)–about 36 million falls every year. Per the CDC, an older adult suffers a fall every second of the day. Being aware of the duty owed by these owners, and the types of premises liability claims one can make, is key to any injury case. If you've been injured as the result of negligence on someone's property or business premises, consult with the knowledgeable attorneys who know the finer points of premises liability claims and who will fight for you to get you the compensation you're entitled to.
The most common types of premises liability claims include:
Slip and Fall Accidents
One of the more common premises liability claims. Slipping and falling due to hazardous conditions such as icy walkways, wet floors, etc.
Trip and Falls
Tripping over uneven or broken sidewalks, carpeting, or other hazards that may lead to sprains, broken bones, or even head injuries.
Falling Items & Debris
From improperly placed tools and inventory to inadequate safety measures, these types of accidents are most common in retail stores and construction sites. Such accidents can lead to severe injuries to the head or neck, brain trauma, or paralysis.
Animal Bites & Attacks
Injuries caused by animals aren't always intentional, but being bitten or attacked by a pet or animal on the premises could make the owner liable to the victim for medical bills, pain and suffering, and other linked damages.
Pool Injuries & Drowning
Unsafe conditions outside of the pool, failed equipment, or lack of fencing can lead to both adults and children drowning or suffering injuries.
Fires and Explosions
The improper use, storage, or maintenance of combustible substances such as stored gasses (ex. propane tanks) can result in severe burns, explosions, disfiguring injuries, and death.
Elevator/Escalator
Mechanical failure caused by improper maintenance and servicing of elevators or escalators (or a lack of maintenance and servicing) could lead to a premises liability claim if injury is sustained while using elevators or escalators and there is negligence on the part of the owner or maintenance company.
Inadequate Security
A case of negligent security may arise from the absence of security lights, cameras, or other measures that result in you being attacked in a store or restaurant's parking lot or premises.
Amusement Park Accidents
Whether the accidents occur simply walking through the park or as a result of one of the rides, the park is liable for those injured on the premises.
Recreational/Sports Park Accidents
Faulty or unsafe equipment, lack of maintenance to the facilities, and more can all lead to accidents and injuries.
Exposure to Dangerous Substances
Chemicals, cleaning supplies, or other hazardous substances present or used by a property owner that cause you to get sick could mean you have a premises liability claim.
What is
Premises Liability?
You may have a premises liability claim if you've been injured on someone else's property, whether it's a business or residence. Victims must show proof of the owner's negligence in maintaining their property and that the owner's negligence caused the victim's injuries.
Types of premises can include:
Grocery stores
Office buildings
Someone's home
Public sidewalk
Parking lots
Restaurants
Potential hazards that could lead to a premises liability claim could be…
Wet, slippery, or uncleaned floors;
Unplowed or not de-iced parking lots and sidewalks;
Uneven sidewalks, potholes, cracks in sidewalks;
Inadequate lighting or dark conditions;
Unsecured merchandise (falling);
Poor property maintenance;
Dangerous landscaping;
The grounds for a premises liability case rests on the duty owed by property owners to ensure that their premises are "reasonably safe" for visitors and others. Filing a premises liability case involves proving that the property owner was negligent in their care of the property, had reason to know of the potential hazard(s), or if the owner themselves created the hazardous conditions under which you were injured.
Property and business owners have a legal obligation to ensure that their premises are safe and hazard free for those who enter them. Premises liability claims are dependent upon proof that the property owner acted negligently.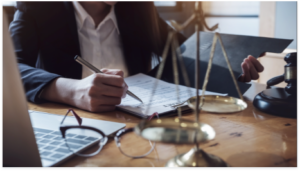 To build a valid premises liability case, victims are required to show:
That the property owner owed a duty of care (to the victim). You'll have to show that the owner had a duty of care to protect you from possible injury.
A failure to fulfill that duty on behalf of the owner. Victims are required to demonstrate that the property or business owner failed to act with reasonable care (in regards to the maintenance or repair of the premises). If such care is not taken, property owners are obligated to take reasonable steps in warning guests about, or remedying, the hazardous conditions.
That your injury was a result of the property owner or business's negligence. Victims must also demonstrate how the owner's negligence or lack of care directly resulted in their injuries.
That the harm incurred resulted in physical or emotional damages. Evidence in the form of medical bills, lost wages, or other supporting proof must be used to quantify the damages and support your compensation claim. With on-call nursing specialists and our skilled attorneys, we're capable of providing a proper valuation of personal injury damages to help you build the strongest case possible.
Premises liability cases boil down to the owner's duty of care, which is a legal obligation to abide by a standard of reasonable care that mitigates or prevents harm to others.
Imagine you're walking through the aisle of a department store, and one of the shelves collapses as you're browsing, causing merchandise and the shelving to fall on you, leading to a broken arm. The department store's owner could be liable for those injuries since it was their responsibility to ensure a safe environment for customers.
Of course, the same duty of care doesn't apply to all victims as it is dependent on the type of visitor that was involved.

If you were a…
Invitee
you're owed the highest level of care. Those who visit public property or who visit private property to benefit the property owner (think: retail and grocery stores restaurants, bars, and amusement parks), are invitees. When an invitee is injured, liability may extend beyond the owner to potentially include workers, municipalities, and others.
Licensee
you're owed a higher degree of care. Licensees are those who enter the property for their own purpose without benefit to the owner, like a visiting neighbor. It's the responsibility of the property owner to inform the visitor of any potential hazards, such as ice, equipment left out, etc.
Trespasser
that means you entered or remained on the premises without consent of the owner and were owed no duty of care. However, the property owner cannot intentionally cause harm to trespassers.
Next Steps for Victims After Being Injured on
Someone Else's

Property
While it may be obvious to get medical treatment, the extent of injuries are not always so obvious. When you have an accident on someone else's property, you owe it to yourself to get checked out and catch any problems before they become apparent, which may not happen for weeks or even months after the incident.
Preserving the scene of the accident while it's in the same condition and state as it was when you were injured is key, and you can do this by taking photos. Whether it's with the camera on your phone or something else, capturing the details of the scene and the hazardous conditions in which you were injured will help you build your premises liability case. 
Incident reports can be filed with and collected from most business establishments. Simply speak to a manager or security personnel to file or obtain one. If you were injured in an attack or on public property, you can file a police report. When you're seen by a doctor, you can ask for copies of their reports, as well. These reports are best collected right away, or shortly after the incident took place. 
This should include any medical, lost wage, and out-of-pocket expense records associated with the incident and your injuries. If your goal is to seek reimbursement for such expenses, you'll need documentation as proof. Witness names and contact information, shoes and clothes worn at the time of your accident, medical records, and receipts are all excellent evidence of damages sustained.
Contact Us
Contact the Almonti Law Group today to handle your personal injury cases with diligence, compassion, and fire.
Get Started